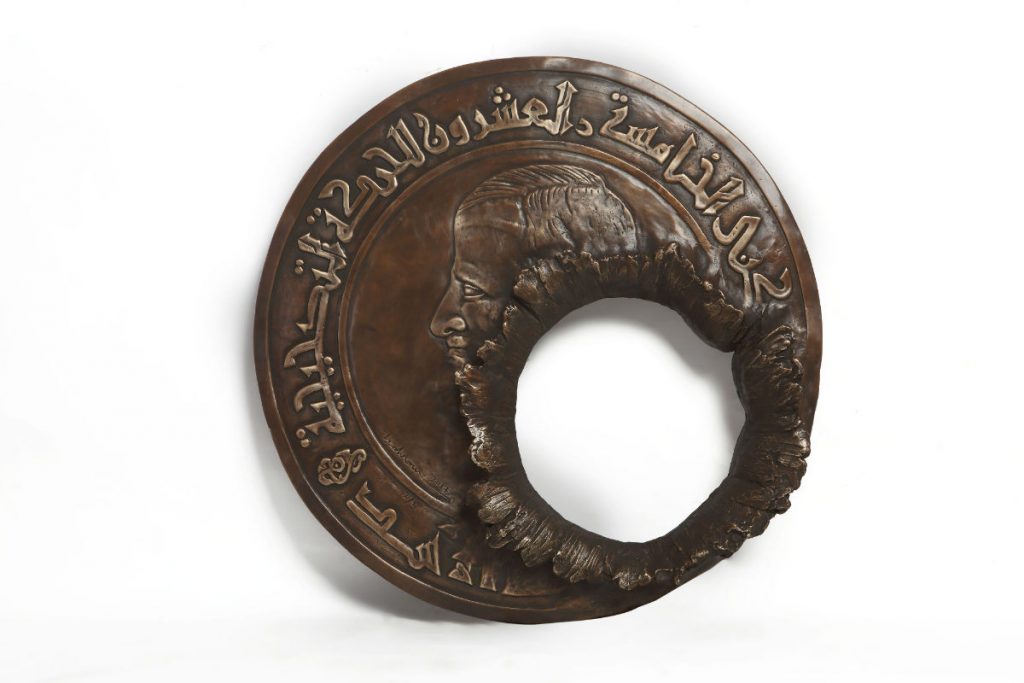 FLIP A COIN
Ahmed Albahrani
15th January – 31st March 2018
The Arab empire: an ancient civilization that once dominated the world with its cultural heritage is now in its last gasp. We are provided with rational explanations that lack in adequacy. In light of authenticity it can be uncovered by the buried treasures, specifically the medium of coinage. It carries a historical pedigree of imagery that can be drawn upon for our own understanding, but the issue of representation arises yet again. How does an interpretation of a major transformation occur when the Arab population has had their ancestry stolen?
Ahmed Albahrani's response to the deficient depiction of political unrest and war is portrayed in his coins. As he evokes the immense deflection of the Arab province, he recreates the coins with a veil of demolition. The engravings are similarly exerted but with a focus on detail. The collection of coins consists of historical moments that conditioned important stages of the Middle East's current state.
The pictorial components of the coins are presented as a major aspect of the collection, because of its fixed importance. They are issued to act as historical icons, with fictional narratives that communicate the success of the state and its people to the world. Albahrani enlarged the coins with the tally marks, cracked surface, gunshots, erosion of sand ripples and the overwhelming effect of a melting process. In fact, the fusion is a downfall of progress where the act of turning a solid substance into a liquid form is an inundation of a failed state.
The combinations of the original motifs are opaque while the texture yields over the foreground, emerging out of the circular frame. Albahrani's manipulation of the bronze medium is a deception of the unimaginable. Through these layers there is a sense of vulnerability that you can approach more intimately.
'Flip a coin' derives from the idea of gestalt. It emphasizes each and every coin as independently accountable for its country's history but together as a whole they represent the collapsed Arab empire. He maneuvers the stiffness of the bronze with the intensified textures to create a multi-dimensional experience with a two-dimensional sculpture, filling it with details that keep the viewer gazing in awe. Every component here matters; it needs to be read through its layers, researched through its depth, because every hidden story is still a subject of our modern-day crisis.
– Rim Albahrani
Location
Anima Gallery, 30 La Croisette, Porto Arabia, The Pearl – Qatar
Opening hours
Sun – Thu, 10am – 7pm