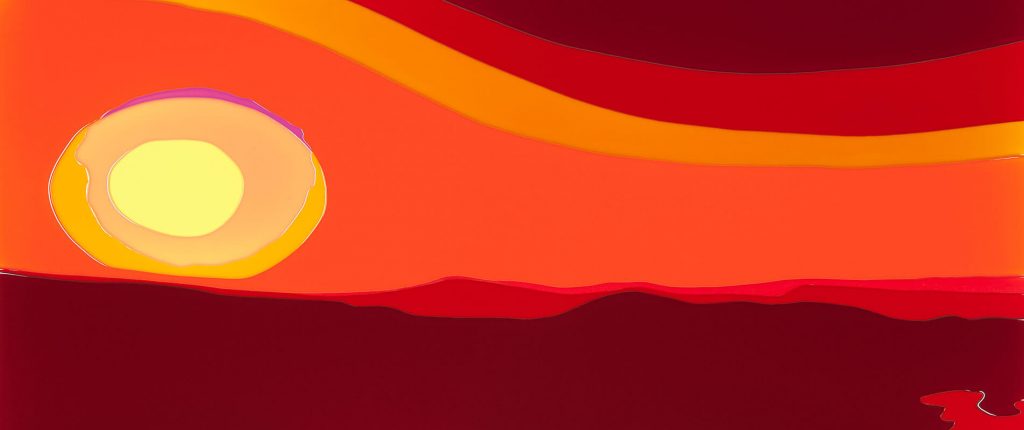 Coherence and Difference
"I think that every work has something to do with … generating markings and identities from
the unmarked space. Art always achieves both; it deconstructs conditions in order to replace
them simultaneously with new identities."1
Peter Zimmermann's introduction to his artist's book Eigentlich könnte alles auch anders sein
(Actually, Things Could Be Different) gives a short but precise description of the interaction
on which his – and ultimately every artistic – method is based: the transformation of the
conditional form into an aesthetic reality, the moment of deciding, within a given field, in
favour of one form – consciously generated or emerging partially by chance – and leaving
other possibilities behind or aside. This moment of determination has a dialectic relation to
the moment of contingency, which has written cultural history as a principle of artistic
production, be it in the work of Mallarmé, the Surrealists or Marcel Duchamp. It marks the
interplay between presence and absence, the simultaneous creating and withholding of
visibility.
To a certain extent, monographic texts about an artist's work pursue similar processes of
emphasis and omission. The periodisation of an oeuvre creates coherence and difference,
subjecting it to the logic of continuity – or of disruption. If one views the publications,
catalogues and texts about Peter Zimmermann, it becomes obvious that they are either
devoted to his works prior to 1998, which were received in the wider field of "Context Art"
during the 1990s – in particular the "Boxes", "Temporary Architectures" and "Posters" –,2 or
to the group of works produced as from 1998, consisting of large-format paintings with
intense, glowing colours and polished surfaces, the motifs of which Zimmermann developed
on the basis of what is now a comprehensive archive of digital images. Only rare attempts
have been made to show these works in conjunction3, as the present exhibition in
Nuremberg does, and if so, the medium of painting is used to mediate, as Hubertus Butin
exemplifies in his book Peter Zimmermann Painting, published at the beginning of 2007.
There, he compares and contrasts the "Book Cover Paintings" of the late 1980s and early
1990s with what he calls the "Blob Paintings", which he categorises as an "independent and
highly seductive form of abstraction" and a constructive continuation of the painting medium's
potential within a digitally influenced perception of reality.4
Peter Zimmermann became well-known in the late 1980s, early 1990s with his "Book Cover
Paintings" and his "Boxes". In the case of the book covers, the motifs transferred to painting
– on a larger scale – completely filled the pictorial field so that the outlines of the image
carrier were congruent to the motif depicted and the paintings consequently developed an
object-like character. The chosen originals – whether dictionaries, lexica, travel guides,
classics of art and cultural theory, or monographic works on artists – made it very difficult to
discern personal preferences. They spanned a range between theoretical reflection on
reproductive pictorial techniques – for example in Walter Benjamin (1990), a depiction of his
classic The Work of Art in the Age of Mechanical Reproduction in a cheap paperback edition
by Reclam – and a concept of art that sees itself as authentic expression and existential selfassurance: Jackson Pollock, to whom Zimmermann referred repeatedly, represented a
counterpoint to his own conceptual artistic approach, which reflects on the importance of
reproductive techniques – here in the form of publications – in art (history) by assimilating
standard works of art history. For example, Piet Mondrian or – in a later work – Minimal Art
in the shape of a painting of the catalogue cover for the exhibition "Primary Structures" in
New York in 1966 also served Zimmermann as patterns. In his series of "Raster pictures",
the visual structure of which recalls the raster dots so typical of offset printing, but which was
produced on the basis of digital patterns between 1999 and 2001, Zimmermann ironically
highlights – also by referring to Sigmar Polke's works – this older technique, which he now
Peter Zimmermann, Text Wege engl, korr. Fassung vom 11.10., S. 3/7, 07.09.2015
merely simulates using digital means. In addition, in his "Book Cover Paintings" Zimmermann
already began to experiment with the material that he has used for his paintings up to the
present day: epoxy or synthetic resin augmented with pigments. Depending on the concentration and fluidity of the pigments, this creates either a lucid or an opaque
impression, but it certainly involves an inherent aspect of industrial chill and distance. The
choice of material, therefore, is also a rejection of the idea of the artistically authentic
signature.
Astrid Wege
Notes
1 Eigentlich könnte alles auch anders sein, ed. by Natalie Binczek and Peter Zimmermann,
Verlag der Buchhandlung Walther König, Cologne 1998, p. 6.
2 Cf. Kontext-Kunst. The Art of the 90's, ed. by Peter Weibel, DuMont, Cologne 1994, pp.
553—561.
3 Stephan Berg's essay In the Flow, in: Peter Zimmermann. Capas de Gelantina/Layers of
Jelly, Centro de Arte Contemporáneo de Málaga, Málaga 2006, 11–35, is one of the few
exceptions.
4 Hubertus Butin: Peter Zimmermann Painting, Hatje Cantz, Ostfildern, 2007, p. 82.
Location:
Anima Gallery, Parcel 17-30 La Croisette, Porto Arabia, The Pearl – Qatar
Opening hours:
Sun – Thu, 10 AM – 7 PM